If any of you are at all interested in South Africa, then this is a sobering read
If any of you are at all interested in South Africa, then this is a sobering read. The issues of endemic/systemic poverty are complex in every way, and yet the fundamental human rights premise is straightforward….Would you let a dog live this way??? When people have nothing to lose, they really do have nothing to lose.
In a country where so many have so little, and a minority have so much, with "extreme lifestyles" living cheek by jowl…it begs the question of "sustainability".
In the days of apartheid, the impoverished classes were reined in and suppressed by force. Now that the post apartheid honeymoon is over, it remains to be seen what will happen.
But one thing is pretty certain…If those in power do not respond appropriately and effectively, then the parts of the country will most likely implode into a downwards spiral of ( more) violence and dissent.
Why is it always SO inevitable that the powers that be are "9 times out of 10" so morally bankrupt, corrupt, and gobsmackingly ineffective? ..Don't even bother thinking about it…you already know the answer..
The ANC totally need to pull their finger out…and fast! 'Let us work together"?…..Actions now…come on!!!
Annie Lennox
Zuma plea as protests sweep the townships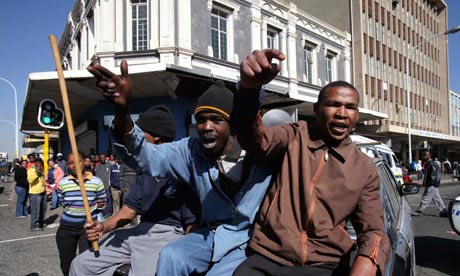 South Africa's president calls for an end to the anti-poverty violence as he admits that he needs time to end corruption and improve services
Sunday 26 July 2009
Source: http://www.guardian.co.uk/world/2009/jul/26/jacob-zuma-township-rally-kwazulunatal
After two weeks of vandalism and running battles between township residents and police, President Jacob Zuma asked South Africans yesterday to desist from violence and give him more time to improve their living conditions.
Speaking at a township stadium rally on his home turf in the province of KwaZulu-Natal, Zuma acknowledged that the government had fallen short in the past 15 years. He told the audience: "The troubles we are seeing in our townships prove to us that there is much work to do and much to repair. But there must not be violence between us. Let us work together!"
The response to his speech was muted, and the African National Congress organisers seemed disappointed at the turn-out of about 3,000 people. They admitted that the 67-year-old president, after an early-morning visit to workers at a World Cup building site in Durban, had delayed his arrival to allow more time for the stadium to fill up.
Nozipho Mbambo, 24, was attending the siyabonga ("thank you") rally in the hopes of seeing Zuma – affectionately known as Msholozi, meaning dance. It is nearly 100 days since Zuma swept to power on a platform of hip-wriggling and promises that he, at last, would be a people's president. "I don't have much to thank Msholozi for," she said, adding that things would be different if someone had plumbed in the breeze-block toilet that was built for her street five years ago.
In the past week, scenes reminiscent of the apartheid era have returned to the townships – clouds of acrid black smoke rising from burning tyres, police turning on residents with rubber bullets, sirens wailing and – most symbolic – official buildings and vehicles being set on fire.
Commentators say South Africa is sitting on a social time bomb. Government damage-limitation efforts so far seem focused on preventing an explosion before next year's World Cup rather than on improving delivery of services.
Sitting on the grass, Mbambo, who in common with nearly two thirds of the population voted ANC on 22 April, said the government was out of touch. "We vote ANC because you must. They are like the royal family. Zuma is a Zulu, so there was no question for me. But that does not mean I am happy," explained the single mother who lives with her parents. "First, I would like a job."
Semi-rural Hammarsdale has few shacks and widespread electricity coverage. But Mbambo says residents have to burn their own litter because it is never collected. Transport is scarce and crime is bad. "You have to walk everywhere. It is dangerous, so you can't go out at night. There are rats that bite the children. Last month armed robbers held up worshippers during a church service."
She said she understood restive compatriots in squatter camps. Her uncle lives in Diepsloot, near Johannesburg. "He moved there from Alexandra because President Thabo Mbeki was promising him a house. That was eight years ago. He is a man in his 60s and he has to do his business in a bucket. Now the local councillors have told them to move again, to a wasteland near Pretoria, to make way for a new sewerage pipe. I support all those who are rioting now."
Across South Africa's 283 municipalities, similar incidents have caused a crescendo of rage in the past month. Protesters have brandished placards saying life was better under white rule. Ethiopians and Pakistanis in Balfour, within the province of Mpumalanga, have taken refuge outside a police station, fearing a repeat of last year's xenophobic attacks which left 100,000 people homeless and saw 63 killings.
Fifteen years after the first all-race elections, the situation is dire, whichever set of statistics you look at. Hammarsdale has a 33% HIV infection rate and antiretroviral drugs recently ran out. Nationally, figures issued last week by the Institute of Race Relations showed 70% of children live in poverty. The number of black orphans has increased by more than a quarter in five years, pushing the number of households where a child is in charge to nearly 148,000.
This week 150,000 municipal workers will go on strike and petrol pumps may run dry if chemical industry workers also go ahead with planned industrial action. The disputes do not have astronomical demands. The recent construction industry strike – which halted World Cup projects for a week – centred on a modest pay increase for 50,000 workers, from 14 rands (£1) per hour to 15.68 rands. It was finally awarded by an industry in full boom. The chairmen of the five construction companies building stadiums have claimed share options this year worth millions of rands and their chief executives' salaries average 7m rands (£530,000).
The South African wealth gap is deepening. Even as squatter camp residents were rioting, the new communications and education ministers were out buying cars. Insensitively, their spokesmen said they were "obeying the rules" by purchasing three BMWs and a Range Rover for a total of 4.1m rands (£310,000).
The government's clumsy handling of the present crisis adds to the bitterness. After, in effect, ignoring last year's xenophobic violence, this time the ANC has deployed the hitherto unknown minister of cooperative governance and traditional affairs, Sicelo Shiceka, to deal with the issue. But he is firing in all the wrong directions, suggesting it is normal for people to take to the streets because "we are legitimate government and their protests mean they understand this". He told a radio station that people with complaints should ring Zuma's new "presidential hotline", but inquiries by the Observer revealed the people will have to wait until September, when it comes into service.
Shiceka has said demonstrators who have gone on looting sprees are "opportunists using their bad living conditions to take advantage of a situation". Defending the country's image, he said: "The international community must not have any fears. Before the World Cup in France in 1998 there was a big strike and everything came to standstill. But no one saw that as a problem for the World Cup." The government acknowledges that the 2.6 million homes it has built since 1994 are still 2.1 million short of its target. Shiceka admits that local authorities are chaotically run, but blames the councillors' lack of experience.
Ordinary South Africans – and the estimated one million shack-dwellers in the country – are very clear: service delivery failures are the result of ANC nepotism, comrades being assigned to positions for which they are not qualified. In some regions, the escalator to the middle class runs solely through local government jobs and tenders. Analyst Aubrey Matshiqi says this explains why service delivery protests take place outside election time: "There was a lull during the election campaign period because some of the protest leaders hoped to be on ANC election lists or had already succeeded in their quest to be on them."